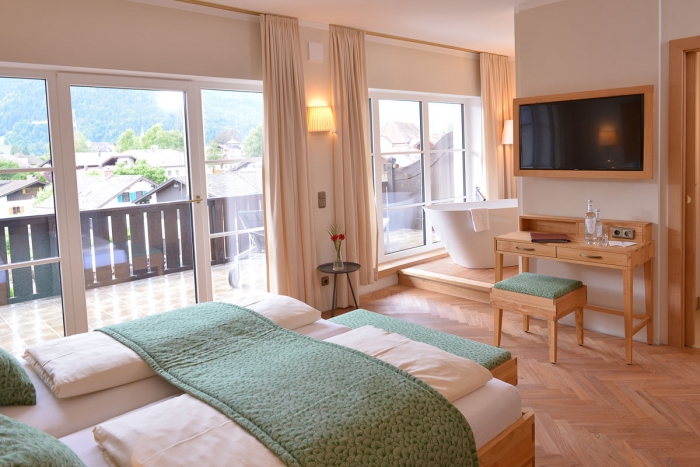 Biohotel Garmischer Hof - 100%organic
A historical building and ecologically sound rooms. Roast pork and acid-base balance fasting. Tea dances and tinder.
"Time does not change us, it merely lets us unfold." Max Frisch
That's the essence of the Hotel Garmischer Hof, a hotel open to everyone past and present, a hotel run and cherished by the 4th generation of the same family, full of that very special warmth of family management (amidst all the susurrus). A hotel that dares innovative steps on traditional ground and aspires to personally welcome regulars and newcomers alike, to welcome you with everything our family stands for and believes in – a far cry from put on trends. To us that means healthy yet filling food and staff who look after you properly. Our rooms become open spaces – to unfold or just to be.
We so look forward to meeting you.
Our warmest regards,
Family Seiwald
DE-ÖKO-006
Kontakt
Biohotel Garmischer Hof

Garmischer Hof GmbH & Co. Kg
Chamonixstraße 10
82467 Garmisch-Partenkirchen
Phone: +4988219110
Fax: +49882151440
E-mail: This email address is being protected from spambots. You need JavaScript enabled to view it.
Web: garmischer-hof.de
Social Media
Facebook Biohotel Garmisch Hof
PAUSCHALANGEBOT
https://www.garmischhotel.de/de/angebote/

Pistengaudi
Gründe für einen Urlaub gibt es viele und auch, wenn der reine Entspannungsgedanke durchaus legitim ist, und bestimmt immer mitschwingt, kann der Anreiz noch aus einer ganz anderen Richtung kommen. Ob gesundheitliche Aspekte, bewegtes Freizeitprogramm oder einfach das preisliche Jahreszeitenspecial – wir haben verschiedene Arrangements und laden Sie ein, diese hier zu entdecken.
Deutschlands erste Adresse in Sachen Wintersport hat eine Menge zu bieten. Von leichten Pisten für Anfänger bis hin zur legendären Kandahar, Ihnen stehen 60 km Piste und vier beschneite Abfahrten zur Verfügung!

Von einfachen Pisten zum Eingewöhnen bis hin zur berühmten Kandahar bietet unser Skigebiet alles was einen perfekten Tag im Schnee ausmacht:
Insgesamt über 60 Pistenkilometer, Traumschnee von November bis Mai, bestens präparierte Strecken von leicht bis anspruchsvoll, modernste Liftanlagen, traumhafte Panoramablicke und urgemütliche Hütten.

Nach dem Skifahren können Sie Sich im Alpisana Spa Kraft für den nächsten Skitag tanken.

Kommen Sie und lassen Sie Sich verzaubern.....
Inklusiv:
4 Übernachtungen mit Bio-Frühstück im Doppelzimmmer Komfort
2 Tages Skipass (Twin Ticket) für die Skigebiete Klassic und Zugspitze
Kurtaxe für den gesamten Aufenthalt