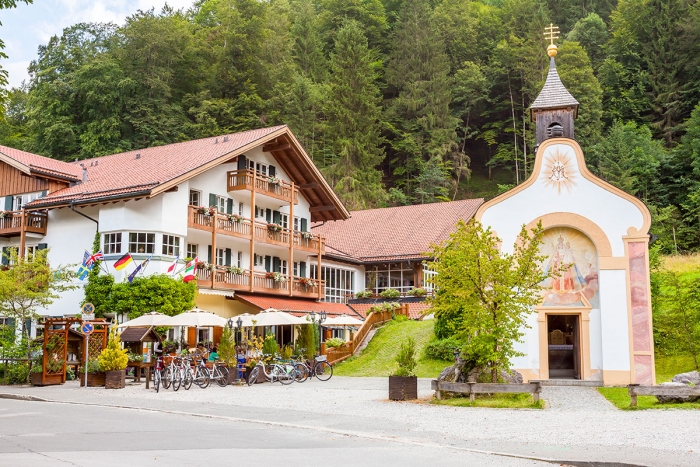 Welcome to "Berghotel Hammersbach" in Grainau. An impressive history links "berghotel Hammersbach" with its environment – the charming wild and romantic Alpine scenery, the superb Zugspitz massif and the murmuring Hammersbach. Elegant country style characterizes the personal ambience of this jewel of Bavarian hospitality and seduces you to stay.
The hotel comprises a set of 3 houses with 127 comfortable, cozy rooms and apartments. All rooms are equipped with shower/ WC, TV, telephone, safe and hair dryer.
For your conferences and events you can reserve 5 conference rooms full of state-of-the-art conference technology for up to 200 persons.
Our guests can choose from a large variety of regional delicacies, dishes on the basis of grandmother's recipes or from the international gourmet kitchen. You will find vegetarian dishes and menus as well as hearty and light cold meals. Our confectionery provides daily fresh home-made cakes and pies.
You can recover in our large relaxation area (1,500 m²), an individually designed sanctuary with swimming pool, sunbathing lawn and a number of versatile medical and cosmetic treatments.
Contact:

Kreuzeckweg 2 - 6
D- 82491 Grainau
Tel. + 49 (0) 88 21 / 983 – 0
Fax + 49 (0) 88 21 / 983 – 400
This email address is being protected from spambots. You need JavaScript enabled to view it.
haus-hammersbach.de
Follow us on SocialMedia:
facebook.com/Hotel.Haus.Hammersbach
instagram.com/berghotel_hammersbach/
PAUSCHALANGEBOT
Hikingweek
7x overnights in cosy rooms
7x breakfast from our bavarian breakfast buffet
7x dinner as could/warm buffet
Free use of pool and spa facilities
Bathrobe for the length of your stay
1 Zugspitzcard valid for 6 days
Rate:
Starting from 1090,00 € per person in a double room
Starting from 1577,00 € in a single room
Book here:
Hikingweek