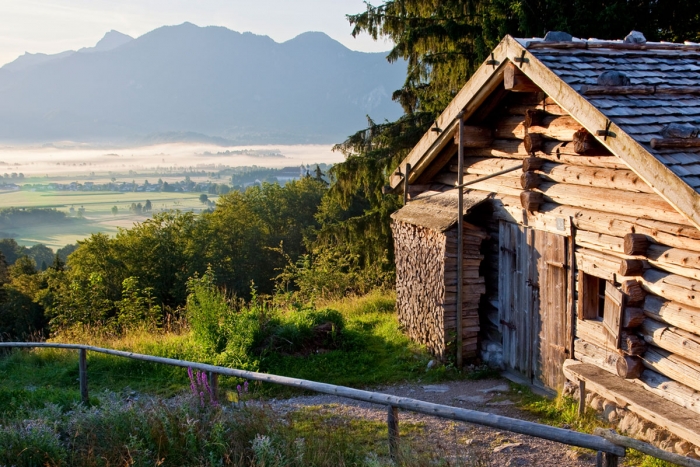 Spend an exciting day in fascinating surroundings at southern Bavaria's largest open air museum, where more than 60 buildings are preserved in their original, furnished state. They have been rebuilt in a cultural landscape maintained according to historical standards.

Gain a comprehensive insight into Upper Bavarian life from the early modern age right to the present. You will find gardens, forests and meadows with old animal breeds and enjoy spectacular mountain and lake views on a site covering 40 hectares.

Have you ever seen what a cooper produces or how a potter makes a jug? Do you recognize the smell of fresh, wood-baked bread straight from the oven and do you know how a smith heats iron until it glows? Old crafts are revived during our daily demonstrations!

Recently, you can also experience a brewery in operation, where we produce typical Upper-Bavarian beers that you can of course try.

Children of all ages are invited to travel through time and crack a secret code in our "house of discovery", where only those who use all their senses are able to solve the exciting mystery.
Links
www.glentleiten.de
Facebook Glentleiten
instagram.com/freilichtmuseum.glentleiten
Brochure
Contact
Freilichtmuseum Glentleiten
Des Bezirks Oberbayern
An der Glentleiten 4
82439 Großweil
Phone: 08851/185-0 oder -10 (Kasse)
E-Mail: This email address is being protected from spambots. You need JavaScript enabled to view it.

Öffnungszeiten:
Von Josefi bis Martini, 19. März bis 11. November
Dienstag bis Sonntag von 9.00 - 18.00 Uhr, an Feiertagen und von Anfang Juni bis Ende
September auch montags geöffnet. Nach der Sommerzeit schließt das Museum um 17.00 Uhr.
ZugspitzCard & ZugspitzCard Gold