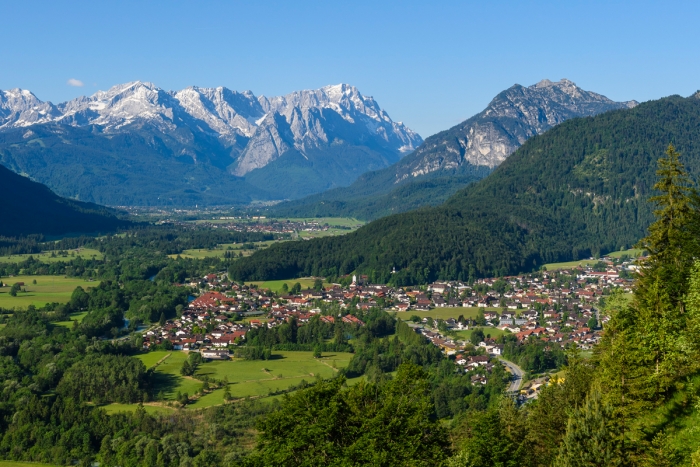 Hello and Welcome to Oberau in the ZugspitzLand
Nestled within a beautiful natural setting, Oberau is located in the middle of the Loisach valley. Nature enthusiasts are surrounded by the picturesque panoramic view of the Alps wherever they go. The wonderful landscape brings joy and pleasure throughout the year, whether on a walk along the River Loisach or on hiking tours, walking past clear mountain streams, through moor grasslands or in breathtaking mountain regions. Body, spirit and soul alike will find relaxation here.
Refresh yourself in our family friendly Alpine Swimming Pool embedded in this region with its magnificent panoramic view of the surrounding mountain ranges, visit our Exhibition of Nativity Scenes designed with loving attention to detail or join a tour of our village to learn interesting facts about our churches, crafts and trades, the rafting business and mysterious alpine ghosts and phantoms.
Our numerous events such as the concerts of our local music band, wood parties or guided hiking tours hold something in store for everyone.
Even golf enthusiasts find what their hearts desire: Our 18-hole golf course is a playing field and a natural cinema at the same time, and the hot spots around here can be reached in an environmentally friendly manner by our regional bus – free of charge with your visitor card.
Contact
Tourist-Information Oberau
Schmiedeweg 10
82496 Oberau
Phone: +49 (0) 8824 939 73
Fax: +49 8824 / 8890
E-mail: This email address is being protected from spambots. You need JavaScript enabled to view it.
Web: www.oberau.de